People might know pretty well on what a crossbody bag is - a type of bag with a single handle that could be worn over the shoulder or cross the body. But a "lightweight crossbody bag"? What is so special about it?
This article will therefore explains what a light weight crossbody bag is, benefits of using this type of crossbody bag in everyday life, and our recommendations on the newest crossbody bag designs:
What is the Purpose of a Lightweight Crossbody Bag?
Why Should You Use a Lightweight Crossbody Bag?
Our Recommendations: Trendy Crossbody Bags for Women You Cannont Miss
What is the Purpose of a Lightweight Crossbody Bag
A lightweight crossbody bag is a small size, trendy handbag that can be worn with any outfit and carry essential items that you need for everyday use. It can be used as an alternative to bulky and heavy handbags that are inconvenient in certain situations, and free your hands of holding the bag all day or during commute.
Different from commonly seen crossbody bags on the market, a lightweight crossbody bag is made of ultra-light materials together with a carefully crafted size that aims to reduce the burden of heavy bags. A nylon strap is used instead of a leather belt, so that you will not feel that you are carrying anything at all! Also, it is notable that a lightweight crossbody bag tends to be quite petite with a flatter squared shape, in comparison to the traditional ones with more of a bulky shape. This is due to the fact that modern urban dwellers tend to have lifestyle that's fast-paced, always on the go, and therefore wanting to keep everything minimal, fast and convenient. A lightweight crossbody bag therefore provides the perfect solution to this, as it is small and compact, but also roomy enough to store people's daily essentials while they are on the go, such as keys, small wallets, ID cards, tissues, or small cosmetics items.
Why Should You Use a Lightweight Crossbody Bag
A lightweight crossbody bag is the perfect accessory for modern city dwellers who are always on the go and seek a faster and more convenient lifestyle. There are many occasions to wear a lightweight crossbody bag, but here are some of the most popular ones:

Daily outing: This is the most obvious use for a lightweight crossbody bag. You can use it to carry your wallet, phone, keys and other small items when you go out for errands or coffee with friends.

City adventure: When you feel like exploring the city, drifting swiftly through city corners without being drag down by heavy belongs, a lightweight crossbody bag is the best company.
Light sports: Whether it is city biking, jogging or on the way to gym, you would find a lightweight crossbody bag useful to keep yourself light and free your hands while you are on the go
Our Recommendations: Trendy Crossbody Bags for Women You Cannot Mis
SUPPEAL's super lightweight leather crossbody bags are here for urbanites with a minimalistic lifestyle — giving them a fashionable, fast and convenient accessory that's small enough to carry around while providing sufficient space for daily outing essentials. It also has bold and vibrant designs to add a pop of color to your daily routine.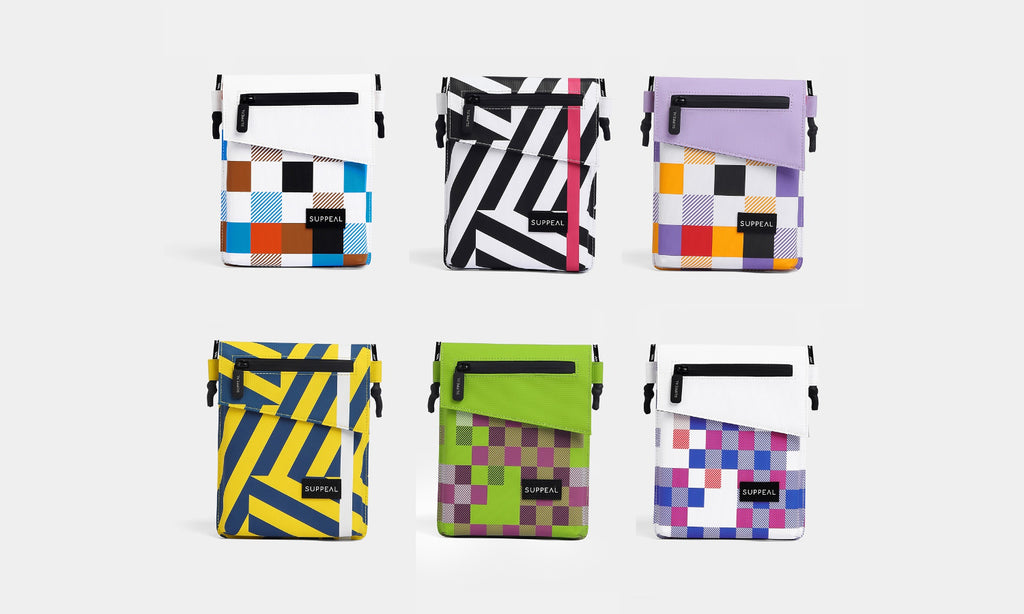 Weighing just 150g, SUPPEAL crossbody bags won't weigh you down. The quadrate shape is roomy to store your day-to-day essentials, such as phone, credit cards, keys, passport or small wallet or cosmetics items. The stylish reflective strap furthermore prevents exhaustion from carrying heavy bags.
The eye-catching and vibrant designs have everything both men and women need to complete your outfit and express personality. Styled up with color and travel lighter with SUPPEAL and get ready to stand out from the crowd.
SIZE INDICATION: 20*17.5*3cm H*L*W; Fits your daily essential small items such as keychains, ID cards, cosmetics and phones.
You can further upgrade your light outing accessories with SUPPEAL's lightweight AirPod Case Bags and Water Bottle Bags.